The obviously faked




Terror incident in Paris last week was clearly aimed at preparing public opinion in the West for an operation to take down the Saudi Arabian monarchy. The operation consisted of having a French magazine publish cartoons of a sort that would lead to a death penalty in Saudi Arabia and then faking the execution of the magazine's staff. This serves to make the Western public aware and angry about the sort of thing the Saudi government does.

It is a fact the Saudi Monarchy has for years bankrolled and promoted and obscurantist, radical sect of Islam known as Wahhabism. They have also worked hand in glove with the Bush Nazi crime family for decades in their project to replace Western democracy with totalitarian dictatorship. This is a country where, if you are caught in an adulterous relationship, the punishment, to this day, is to have you buried up to the waist in the sand and then stoned to death. This is also a country where you can be arbitrarily killed by the ruling family for questioning their control of that country. When I was there I was advised that if I got in a traffic accident, I should pretend to be injured so that I would be taken to a hospital instead of a police station. If I ended up in a police station I might never come out, I was told. This family mafia country has been using their oil wealth to create armies of ignorant fanatics throughout the world.

So, to cut off financing for Islamo-fascists, beheading the Saudi regime would be a good place to start. Or at least that what seems to be going on in the minds of the people staging the events in Paris.
There is a deeper aspect to this story though.





The Saudis themselves represent a slave government controlled by elements of the P2 Freemason lodge who want to engineer a battle between Christianity and Islam in order to force them to become a single religion, or a one world religion controlled in secret by them. They created and financed Wahhabists and other fake Muslim extremist groups in order to create a boogey man for brainwashed Western militaries to attack. The end game is a world fascist dictatorship controlled by a small clique of inbred families. In this version, the Saudi royals are just pawns acting out the role of bad buys.

When Benjamin

Fulford

father, Dwight Fulford, was Canadian ambassador to Saudi Arabia in the late 1980's the Saudi royals his father met tried to get him to read the Protocols of the Elders of Zion. A Saudi prince also told this writer "we have worked under them for a very long time." The story being conveyed by the Saudis is that of a secretive "Zionist" group manipulating world events in order to take control of the planet.





French President Francois Hollande, for his part, on public television blamed the incident on "les illuminés," the French world for Illuminati.The Illuminati he was referring to are most likely the gnostic Illuminati, a group that claims credit for the American, French and Russian revolutions. This group wants to end bloodline rule in Europe. Hollande is affiliated with the French Grande Orient Freemason lodge which would put him under the French branch of the Rothschild family.




The Illuminati previously told the White Dragon Society they want to end European, the Middle East and SouthEast Asia

Royal bloodline rules

. These nobilities, instead of using their wealth accumulated from their brainwashed slaves hard works to develop their country and reinvested in their people

well being

, spent it for their own bloodline extravaganza

lifestyle

and prosperity.




Poor ASEAN people

lifestyle

, living around city capital.

Now let us take a look at what is going on in the Middle East. What we see there is an alliance between Turkey, Syria, Iran, Shia Iraq, and the Pentagon apparently facing off against Israel, Saudi Arabia, Jordan and Egypt. Turkey, Syria, Iran and the Iraqi Shias together can wield a modern army of over 1.5 million men. Egypt, Saudi Arabia, Israel and Jordan together can muster just under one million. If both the Pentagon and Russia support the Turkish alliance, and apparently they do, this essentially means Saudi Arabia, Egypt and Israel have no real choice but to join the Turkish/Iranian alliance or be militarily crushed.

Now let us look at this situation from the US angle. Here we have an Obama regime stubbornly clinging to power in Washington that still refuses to tell the truth about 911 and the fascist coup d'etat that followed it. Note too that nobody significant from the Obama regime showed up at the big French PR event last week that followed the fake terror attack.

This is the same Obama regime that is threatening to veto the Keystone pipeline plan to bring oil from Canada to the United States. Apparently Obama thinks it is better for the US to import its oil from the fanatic sponsoring Zionist slave regime in Saudi Arabia than from peaceful democratic Canada.

The Pentagon, quite sensibly, is no longer obeying any orders from the Obama regime.

Incoming Defense Secretary Ashton Carter, when he comes into office next month, knows the rest of the world will stop financing the pentagon and the US regime unless action is taken against the neo-con war criminals, starting with the Bush family, that Obama is still protecting.

Now let us get back to Europe. France was attacked immediately after President Hollande called for an end to sanctions against Russia. Germany is also talking about setting up a joint security arrangement with Russia making a "terror" incident there a likely bet.

This comes as the US announces it is closing 15 military bases in Europe and concentrating its military power there in England. England is also now moving away from the EU and aiming to become a sort of Atlantic Switzerland.

Meanwhile Greece, which is secretly ruled by the British royal family (Queen Elizabeth's husband Philip was born as Prince of Greece and Denmark), is expected on January 25th to elect a government that will leave the German controlled Euro.

So, let us try to visualize the big picture of what is going on. We have a new super-state emerging in the Middle East. We have Russia and Germany replacing the US as the main sponsors of security in continental Europe. We have England distancing itself from Europe and rebuilding its bridges with the Anglo Saxon world.

In Asia, meanwhile, China has done a pretty good job of hiding how powerful it has truly become. One mind-blowing statistic says it all: in the past 3 years China has produced more cement than the US did in the entire 20th century.

China wants to reassure its neighbours and the rest of the world that it poses no threat. For that reason it is not only tolerating but actually financing Pentagon efforts to defend countries that border China. As a part of this, (as mentioned before in this newsletter) China has agreed to a merger between North and South Korea with Japan under Pentagon protection.

So, the Pentagon moves 60% of its forces to Asia, while the Russians and Germans take over the role of protecting continental Europe. The Muslim world, for its part, will become strong and independent once again minus the radical fanatics.

One other bit of news that slipped in mostly under the radar last week is that China just reached an agreement with the nations of the Caribbean, Central and South America (the US's "backyard") to increase bilateral trade to $500 billion a year.

And, in Washington D.C., we have a rump regime carrying out foolish anti-social acts like inciting race riots, faking North Korean hacking incidents etc. In psychological maturity it resembles a two year old having a temper tantrum after its candy was taken away.
How and why Paris "Shooters" are created, funded
Heavily armed, well-trained gunmen executed what appears to be a well-planned attack in Paris, France, killing 12, including 2 police officers. Where did these terrorists get their weapons, training, political backing, funds, and inspiration? A short timeline featuring news stories from 2011 to 2014 helps explain how France's recent national tragedy was a direct result of its own insidious, callus, terroristic foreign policy that has visited this very same carnage seen in Paris, upon the people of Libya and Syria, a thousand fold.
Image: France has been arming, funding, backing, and exploiting armies of terrorists from North Africa to the Middle East as part of NATO's larger bid to use Al Qaeda to overthrow governments and rearrange regions to better align to their hegemonic agenda. Now these same extremists are running rampant in France's own streets - either as a form of blowback, or as a means to manipulate public perception as NATO did with Operation Gladio during the Cold War.
2011 -
France supplying weapons to Libyan rebels
, London Telegraph:
A French military spokesman, Colonel Thierry Burkhard, said it had provided "light arms such as assault rifles" for civilian communities to "protect themselves against Col Gaddafi".
But the decision to arm the rebels is a further move towards direct involvement in the land war on top of the air war against Col Muammar Gaddafi. The Nafusa rebels have come closest to breaking through to Tripoli itself of any of the front lines of the conflict, while three months of Nato bombing have failed to dislodge Col Gaddafi from power.
Le Figaro, the French newspaper which first reported the air drops, said the shipment included rifles, machine guns and rocket-propelled grenades, along with Milan anti-tank missiles.
2011 - Libyan rebel commander admits his fighters have al-Qaeda links, London Telegraph:
Abdel-Hakim al-Hasidi, the Libyan rebel leader, has said jihadists who fought against allied troops in Iraq are on the front lines of the battle against Muammar Gaddafi's regime.

2012 - France to push for arming Syria's opposition coalition, the BBC:
France's foreign minister has said he will discuss supplying arms to the Syrian opposition coalition with European partners.
The government plans to push for a relaxation of the EU arms embargo to Syria to enable "defensive arms" to reach opposition fighters.
2013 -
Syria crisis: France and Britain move a step closer to arming rebels
, the London Guardian:
France and Britain have moved a step closer to arming the opposition to the Assad regime in a radical move aimed at tipping the balance in the two-year civil war while also ignoring European policy on Syria.
The French president, François Hollande, went into an EU summit in Brussels with a dramatic appeal for Europe to join Paris and London in lifting a European arms embargo, but the sudden policy shift was certain to run into stiff German opposition.
2013 -
Syrian rebels pledge loyalty to al-Qaeda
, USA Today:
A Syrian rebel group's April pledge of allegiance to al-Qaeda's replacement for Osama bin Laden suggests that the terrorist group's influence is not waning and that it may take a greater role in the Western-backed fight to topple Syrian President Bashar Assad.
The pledge of allegiance by Syrian Jabhat al Nusra Front chief Abou Mohamad al-Joulani to al-Qaeda leader Sheik Ayman al-Zawahri was coupled with an announcement by the al-Qaeda affiliate in Iraq, the Islamic State of Iraq, that it would work with al Nusra as well.
2014 -
France delivered arms to Syrian rebels, Hollande confirms
, France 24:
President Francois Hollande said on Thursday that France had delivered weapons to rebels battling the Syrian regime of Bashar al-Assad "a few months ago."
France Isn't the Only One

The cartoonish nature of France first being reported to give weapons to "rebels" before these "rebels" are reported to be, in fact, Al Qaeda is not simply France's bad luck. It is part of NATO's very intentional, vast network of global state-sponsored terrorism. It would be reported that terrorists armed by the US in Syria with antitank missiles sided with Al Qaeda franchise and US State Department listed foreign terrorist organization, Al Nusra.

T

he Daily Beast would report in its September 2014 article, "

Al Qaeda Plotters in Syria 'Went Dark,' U.S. Spies Say

," that

:
One Syrian rebel group supported in the past by the United States condemned the air strikes on Tuesday. Harakat Hazm, a rebel group that received a shipment of U.S. anti-tank weapons in the spring, called the airstrikes "an attack on national sovereignty" and charged that foreign led attacks only strengthen the Assad regime.The statement comes from a document, purportedly from the group, that has circulated online and was posted in English translation from a Twitter account called Syria Conflict Monitor. Several Syria experts, including the Brookings Doha Center's Charles Lister, believe the document to be authentic.
Before the official statement, there were signs that Harakat Hazm was making alliances in Syria that could conflict with its role as a U.S. partner. In early Septemeber a Harakat Hazm official told a reporter for the L.A. Times: "Inside Syria, we became labeled as secularists and feared Nusra Front was going to battle us…But Nusra doesn't fight us, we actually fight alongside them. We like Nusra."
This group would later be reported by the Western press as having "surrendered" to Al Qaeda.
The International Business Times would claim in its article, "
Syria: Al-Nusra Jihadists 'Capture US TOW Anti-Tank Missiles' from Moderate Rebels
," that:
Weaponry supplied by the US to moderate Syrian rebels was feared to have fallen into the hands of jihadist militants affiliated to al-Qaida after clashes between rival groups.
Islamist fighters with Jabhat al-Nusra seized control of large swathes of land in Jabal al-Zawiya, Idlib province, at the weekend, routing the US-backed groups the Syrian Revolutionaries Front (SFR) and Harakat Hazm, activists said.
Washington relied on SFR and Harakat Hazm to counter Isis (Islamic State) militants on the ground in Syria, complementing its air strikes.
Clearly, Harakat Hazm willingly pledged allegiance to Al Qaeda, bringing with them Western armament. Much of Al Qaeda's weapons, cash, training, and backing has been supplied by the West through similar "laundering" arrangements - intentionally - with plans to arm Al Qaeda and use it as a mercenary force against Western enemies in the Middle East laid as early as 2007.
Al Qaeda was intentionally organized and directed by the US, Saudi Arabia, and Israel to engage in a regional confrontation aimed at Iran and its powerful arc of influence including Syria, Hezbollah in Lebanon, and now apparently Iraq. A similar gambit played out in North Africa during NATO's war with Libya. Before that, in the 1980's, the US CIA notoriously created Al Qaeda in the first place to fight a proxy war against the Soviet Union in Afghanistan.
This most recent use of Al Qaeda was exposed by Pulitzer Prize-winning journalist Seymour Hersh in his 2007 article,

"

The Redirection: Is the Administration's new policy benefiting our enemies in the war on terrorism?

" it which it was stated explicitly that (emphasis added):
To undermine Iran, which is predominantly Shiite, the Bush Administration has decided, in effect, to reconfigure its priorities in the Middle East. In Lebanon, the Administration has coöperated with Saudi Arabia's government, which is Sunni, in clandestine operations that are intended to weaken Hezbollah, the Shiite organization that is backed by Iran.

The U.S. has also taken part in clandestine operations aimed at Iran and its ally Syria. A by-product of these activities has been the bolstering of Sunni extremist groups that espouse a militant vision of Islam and are hostile to America and sympathetic to Al Qaeda

.
Now these "extremist groups that espouse a militant vision of Islam" and who are "sympathetic to Al Qaeda" are running loose in France spilling French blood, with and inexhaustible supply of weapons and cash courtesy in part of the French government itself, and with years of combat experience fighting Paris and the rest of NATO's proxy wars for them everywhere from Libya to Syria.
Paris Shooters Just Returned from NATO's Proxy War in Syria
Shooters were radicalized in Europe, sent to Syria, returned, have been previously arrested by Western security agencies for terrorism and long on the watch-list of French and other Western intelligence agencies. Yet "somehow" they still managed to execute a highly organized attack in the heart of Europe.
January 8, 2015
(
Tony Cartalucci - NEO
) - In an all too familiar pattern
and as predicted
, the shooters involved in the attack in Paris Wednesday, January 7, 2015, were French citizens, radicalized in Europe and exported to Syria to fight in NATO's proxy war against the government in Damascus, then brought back where they have now carried out a domestic attack. Additionally, as have been many other domestic attacks, the suspects were long under the watch of Western intelligence services, with at least one suspect having already been arrested on terrorism charges.
USA Today would report in an article titled, "
Manhunt continues for two French terror suspects
," that:
The suspects are two brothers — Said, 34, and Cherif Kouachi, 32, both French nationals — and Hamyd Mourad, 18, whose nationality wasn't known, a Paris police official told the Associated Press. He spoke on condition of anonymity because he was not authorized to speak publicly.
USA Today would also report (emphasis added):
The brothers were born in Paris of Algerian descent. Cherif was sentenced to three years in prison on terrorism charges in May 2008. Both brothers returned from Syria this summer.
The implications of yet another case of Western-radicalized terrorists, first exported to fight NATO's proxy war in Syria, then imported and well-known to Western intelligence agencies, being able to carry out a highly organized, well-executed attack, is that the attack itself was sanctioned and engineered by Western intelligence agencies themselves,. This mirrors almost verbatim the type of operations NATO intelligence carried out during the Cold War with similar networks of radicalized militants used both as foreign mercenaries and domestic provocateurs. Toward the end of the Cold War, one of these militant groups was literally Al Qaeda - a proxy mercenary front armed, funded, and employed by the West to this very day.
Additionally, in all likelihood, the brothers who took part in the attack in Paris may have been fighting in Syria with weapons provided to them by the French government itself. France 24 would report last year in an article titled, "
France delivered arms to Syrian rebels, Hollande confirms
," that:
President Francois Hollande said on Thursday that France had delivered weapons to rebels battling the Syrian regime of Bashar al-Assad "a few months ago."
Deflecting blame for the current attack on "radical Islam" is but a canard obscuring the truth that these terrorists were created intentionally by the West, to fight the West's enemies abroad, and to intimidate and terrorize their populations at home.
We Must Sidestep the Canards
As with any false flag attack engineered by a government for the purpose of manipulating public perception and pushing through otherwise unjustifiable policy both foreign and domestic, a series of canards are erected to distract the public from the true nature of the attack.
In the recent attack in Paris, France, the canards of "free speech," "condemning radical Islam," "tolerance," and "extremism" have all taken center stage, displacing the fact that the terrorists who carried out the attack were long on the leash not of "Islamic extremists" but Western intelligence agencies, fighting in a Western proxy war, as a member of a well-funded, armed, and trained mercenary force that has, on record since as early as 2007, been an essential component of Western foreign policy.
Indeed, Al Qaeda and its various rebrandings are not the creation of "Islamic extremism," but ratherWestern foreign policy using "extremism" as part of indoctrinating the rank and file, but directed by and solely for the purpose of serving an entirely Western agenda.
To undermine Iran, which is predominantly Shiite, the Bush Administration has decided, in effect, to reconfigure its priorities in the Middle East. In Lebanon, the Administration has coöperated with Saudi Arabia's government, which is Sunni, in clandestine operations that are intended to weaken Hezbollah, the Shiite organization that is backed by Iran.

The U.S. has also taken part in clandestine operations aimed at Iran and its ally Syria. A by-product of these activities has been the bolstering of Sunni extremist groups that espouse a militant vision of Islam and are hostile to America and sympathetic to Al Qaeda

.
In reality, without Western backing, "laundered" through the Persian Gulf autocracies and manifesting themselves in a global network of mosques jointly run by Persian Gulf and Western intelligence agencies, there would be no "Islamic extremism" to speak of. To focus on "extremism" as a cause, rather than as a means used by the true perpetrators of this global-spanning campaign of Western-sanctioned terrorism, is not only to perpetuate such canards, but to invite the perpetuation of this very terrorism we are shocked and horrified by.

West Apparently Maintaining Domestic Radicalization/Recruitment Centers


The recent Sydney cafe hostage crisis featuring an Iranian dissident granted Australian asylum and featured in anti-Iranian propaganda, exposed a vast network of radicalization and recruitment run in the Australian city of Sydney, used to organize support and fighters to be sent to the West's proxy war in Syria. The network included many notorious individuals, well known to Australian law enforcement and intelligence agencies, and many of whom had traveled to Syria, taken part in fighting alongside known terrorist organizations, and were allowed to return and continue their political activities in Australia.
The Daily Mail's article, "Why did police ask former terror suspect for an ISIS flag?" would state:
Counter terrorism police have contacted Sydney man and one time terror accused Zaky Mallah and asked him for an ISIS flag.
Just over four hours into the Martin Place siege, officers the NSW Police Joint Counter Terrorism Team and asked him if he could give them an ISIS flag.
Zaky Mallah, 30, from Westmead in western Sydney offered the Counter Terrorist police the flag that hangs on the wall of his apartment, the moderate Islamic Front flag, but 'they weren't interested'.
The article would also state:
Two years ago Mr Mallah travelled to Syria and lived with the FSA rebels engaged in the bloody civil war against Muslim hardliner President Bashar el Assad 'before it got crazy over there'. After returning home, he encouraged young people to go to Syria and engage in jihad to experience the freedom fight taken up against El Assad...
As in Australia, France apparently also has a stable of former terrorists who had traveled to Syria and returned, all while on their watch lists - and in Australia at least - some of these terrorists are literally on security agency speed dials and are clearly a part of a network the intelligence community both monitors and in fact, maintains.
Such networks have turned out thousands of recruits to fight in NATO's war in Syria. The BBC would report in an article titled, "Islamic State crisis: '3,000 European jihadists join fight'," that:
The number of Europeans joining Islamist fighters in Syria and Iraq has risen to more than 3,000, the EU's anti-terrorism chief has told the BBC.
Gilles de Kerchove also warned that Western air strikes would increase the risk of retaliatory attacks in Europe.
How exactly is the public expected to believe that such a vast number of terrorists can migrate overseas to fight alongside terrorist forces the West is currently, allegedly, fighting, without the West being able to stem such a tide? Clearly, just as arming Al Qaeda in Syria was done intentionally, so to have the floodgates been open, allowing European terrorists to both join NATO's proxy war in Syria, and to return home and join NATO's growing war against its own people.
Operation Gladio on Steroids
Such networks don't just mirror NATO's "stay behind networks" formed during the Cold War, supposedly created to activate in the wake of a full-scale Soviet invasion of Western Europe, but instead used as a covert front of political and terroristic provocation - such networks today are a continuation of NATO's secret armies.
NATO's provocateurs used during the Cold War were a mixture of nationalists, anti-communists, former Nazi SS officers, and extremists of every stripe. Their particular beliefs were, however, ultimately irrelevant since they were used for a singular agenda defined not by these beliefs, but by NATO's own agenda.
Many of the militants and extremists NATO used were liquidated upon the completion of the many false flag attacks NATO organized at the cost of hundreds of innocent European lives. Likewise, today, many of the gunmen or bombers involved in the long string of suspicious domestic attacks carried out by NATO's modern "stay behind network" are either killed on sight, or imprisoned and forgotten.
While NATO's Cold War operations appeared confined to conducting terrorism upon its own people, today's networks are used to carry out both proxy wars overseas as well as to carry out terrorist attacks at home. The expansive nature of this network and the threat it poses to global peace and stability should be at the center of the Paris attack debate - not the alleged beliefs, religion, or supposed agenda of the attackers who, just like their Cold War counterparts, were nothing more than patsies and pawns amid a much larger and insidious game.
Created terrorists are used by false flag

French Islamophobes Fake Attack on Newspaper – Total Hoax
Regarding the Islamophobic arch-fake Paris masked men attack on the spoof newspaper Charlie Hebdo where is Inspector Clouseau when you need him? In fact, he isn't needed here at all. There are Inspector Clouseau clones to be seen in virtually every image. The greatest "Clouseau-like" characters of all are the phony masked gunman themselves, mere agents of the French Secret Services aka the Mossad: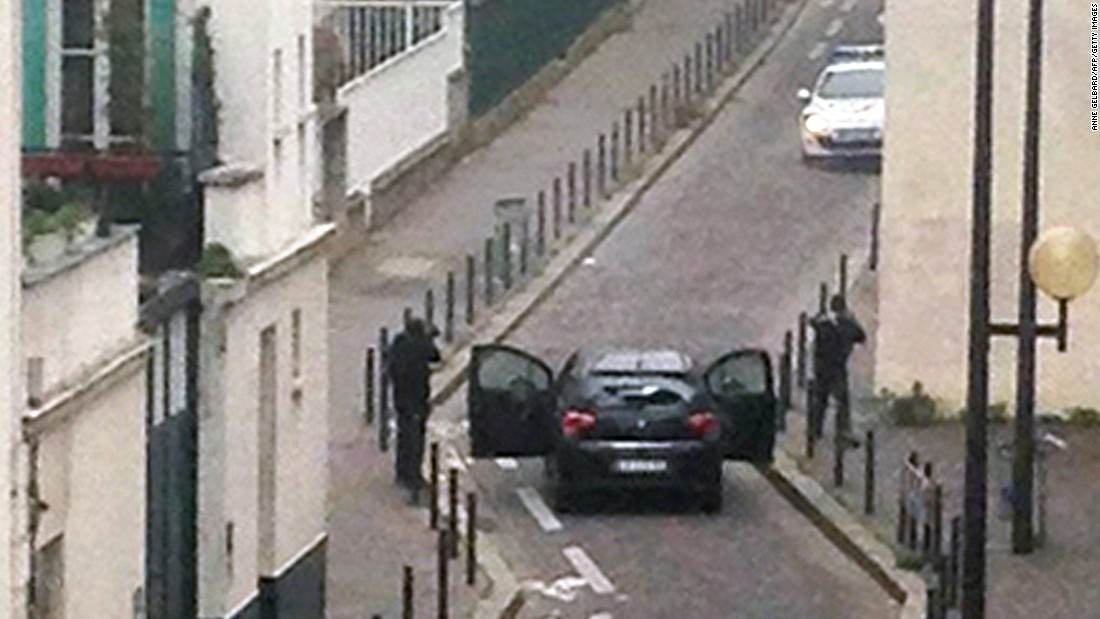 ANNE GELBARDANNE GELBARD/AFP/Getty Images (aka the arch-Zionist Rothschild cabal)

Armed gunmen face police officers near the offices of the French satirical newspaper Charlie Hebdo in Paris.
Sure they did, Clouseau and the whole crew, they faced them off with their pea shooters against all those long weapons. Yet, what was it, was it two gunmen and a third, or two heavily armed men plus a get-away-man? Carlie Hebdo, that arch-Zionist operation, is constantly in the news as a means to fake Islamic intolerance. How useless was that cop or cops in that vehicle. How did these 'gunmen' get around so much in heavily militarized Paris?
http://www.breakingnews.com/topic/shots-fired-at-french-satirical-magazine-charlie-hebdo/
'Hey, Chief Inspector,' don't be afraid of those dark-clad 'terrorists,' get out there with your pea-shooter and confront them.'
Here they are again, the same two Mossad moles, faking it as if they are shooting a man on the street. How about showing the man getting shot to death with all the arterial spurt flowing? They can do that in Hollywood. Why not, here?
Or, is he a police officer under the anti-terror division: Paris police confirm 2 officers killed in Newspaper shootings – @NBCNews
Confirm is a big word. Can the French prove that two such officers were actually gunned down and killed?
Oh, but they killed people, wounding others. Sure they did. Moreover, there is plenty of evidence for it, too:
Those are awfully powerful weapons. See any blood anywhere? He's number two; is t hat number two of four, that is the four fake wounded, or number two of 12, that is the 12 fake dead?
Does anyone seem to be in a crisis mode, anywhere?
Here it is, the gunnery vehicle, the one with the two doors open constantly:
It's obviously staged. Who would realize otherwise?
Charlie Hebdo shooting puts France 'in a state of shock'
PARIS • Masked gunmen shouting "Allahu akbar!" stormed the Paris offices of a satirical newspaper Wednesday, killing 12 people before escaping. It was France's deadliest terror attack in at least two decades.
Sure they did, they took the time to scream it through their masks. They waltzed into the building, right through security, and gunned a number of people down, then made their escape without anyone noticing how they did it.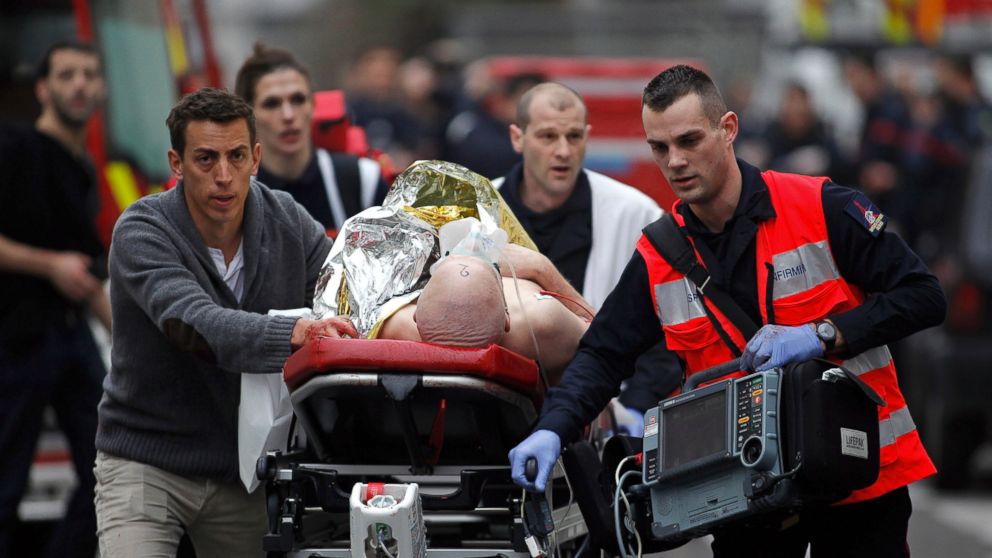 There might have been a bit of tempura paint used on this crisis actors fake bandage; hard to tell. Look at the hoaxer doing the fake inspection, as if he cares.
The Zionists need the arch-distraction. Things are not going well.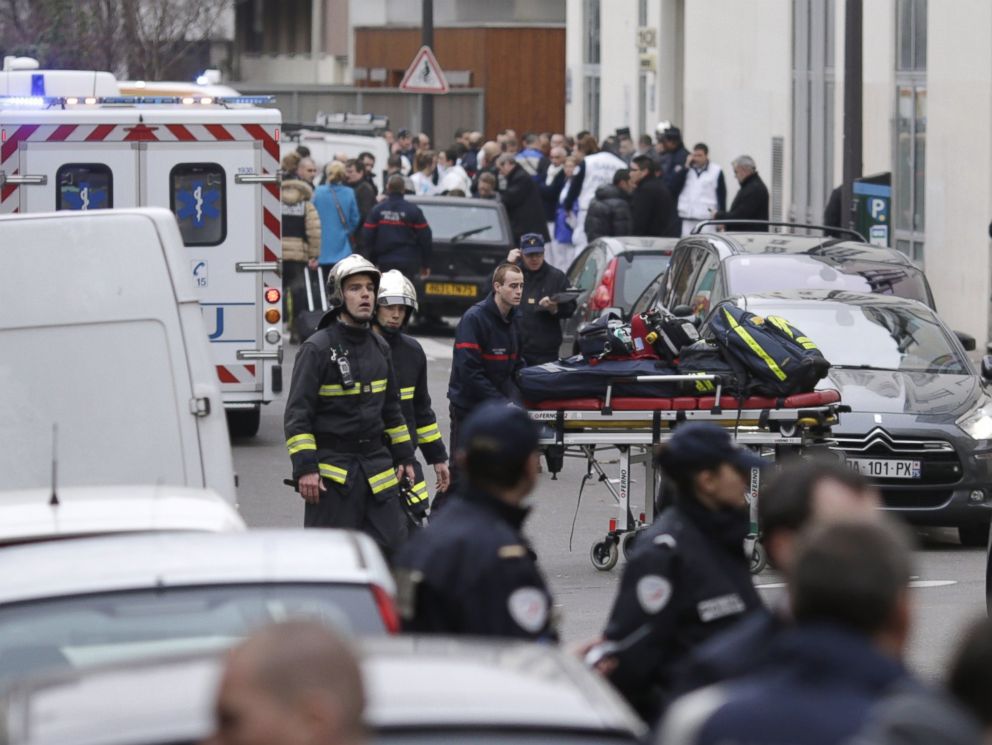 What is this all about? Regardless, he is some kind of signaling mole. Watch for them. There are a number of them in this hoax, in buildings, on the ground, and on the roofs.
Honestly, where is Mr. Clouseau when you need him. At least he'd make a joke out of it.
These hoaxers are far more secretive than the Chief Inspector; they have a variety of bizarre means of communication, so no one can realize what is going on:
It is this man who is of interest; he seems to offer a kind of smirk when speaking to his associate. Notice the camera-man in the background.
There he is again, Clouseau's second in command, peeping out of his corner to check out the situation. Watch what he does next:
Sneaky, isn't he, as he hides and then takes a long down the lane:
He gives the signal. Is the President now ready to roll on the scene? Talk about a furtive glance:
Moreover, here they are, the servants of Zionism, all doing their dastardly deeds:
This is absolutely a hoax. By no means did anyone die. Nor was anyone injured, all of which is glaringly obvious from the imagery. It's three hoaxes simultaneously, Istanbul, El Paso, and Paris. It's all an-arch Zionist plot. There is nothing real about it. This calls for a careful inspection of all claims of any attacks against that arch-Islamophobic entity, so-called Charlie Hebdo.
PARIS SHOOTING: Queen Elisabeth and other high profile politicians Should Thanks President Hollande For BURYING PEDO SCANDAL:
Taking down the House of Saud.